Today is International Women's Day and we celebrate the work of women community leaders around the world who have helped us raise awareness of the need for greater participation by women in climate policy decision-making.
Gender equality is a Principle of Climate Justice and is central to the work of the Foundation.  Historic imbalances in power relations between men and women, exacerbated by growing inequalities within and between societies and countries, means that women are often more vulnerable to the impacts of climate change than men.  Many inspiring women are already leading as powerful agents of change in communities, countries and international agencies working on climate action.
Today we acknowledge the work of some of those women and thank them for their voice and leadership on climate justice.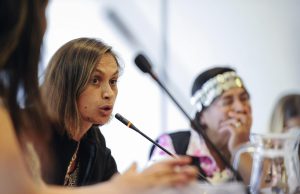 As a member of the local neighbourhood organisation Junta de Vecinos La Aguada, Celia Reyes from La Aguada, Chile, has become involved in decision-making processes and the design and implementation of climate action in her community. Building on her skills and knowledge, participating in training on solar energy and rainwater harvesting has enabled her to maximise benefits for her family. In this photo, Celia is participating in a round-table discussion on women's participation in Santiago de Chile in February 2015, convened by the Foundation and UNDP. You can read more about Celia's work here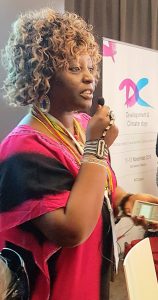 Agnes Leina, is the Executive Director and founder of Il'laramatak Community Concerns, and a pastoralist from Baragoi, Samburu County, in Northern Kenya. Agnes founded ICC in September 2011, with the aim of addressing human rights and development concerns of Maasai pastoralist women and girls. She has worked for the past eight years as a women human rights activist, fighting all forms of discrimination against women. This work has led her to focus on the challenges and problems that climate change has caused for indigenous people in Africa. She is a strong advocate for the inclusion of indigenous peoples in policy making on climate change. She believes rural women are hugely knowledgeable about climate change – but that expertise isn't making it into the negotiations. In this photo Agnes is participating in a learning circle organised by the Foundation at Development and Climate Days in Marrakech in November 2016. Listen to Agnes speak about women's participation in climate action at the launch of a report on gender equality co-convened by the Foundation at UN Women here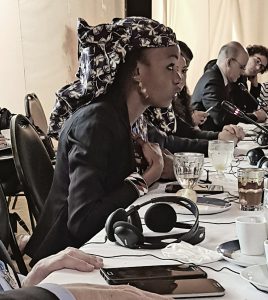 Hindou Oumarou Ibrahim, is the Coordinator of the Indigenous Women and People's Association of Chad. Hindou is a member of the Indigenous Peoples of Africa Coordinating Committee (IPACC) as the Congo Basin regional representative and works to ensure the inclusion of indigenous peoples on international platforms, including within the three Rio Conventions.  She is currently a co-chair of the International Indigenous Peoples Forum on Climate Change, the indigenous peoples' caucus to the UNFCCC. In this picture Hindou is participating in a meeting convened by the Foundation and the Presidents of COP22, Morocco in November 2016. Listen to Hindou speak about the value of local and traditional knowledge in climate policy during the UN Signing Ceremony for the Paris Agreement in New York, April 2016 here.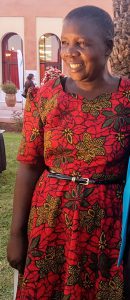 Constance Okollet, is a farmer, activist, and the chairperson of the Osukuru United Women's Network in Eastern Uganda, a network of regional women's groups that represent over 1,200 women. The network aims to tackle problems caused by climate change, including "starvation, drought and inadequate health care." Constance is also a member of Climate Wise Women a global initiative of the Earth Island Institute for the promotion of women's leadership on climate change.
Constance has spoken about the impacts of climate change on villages in Uganda at the United Nations General Assembly and participated in numerous international events, speaking on behalf of her community for climate justice. Watch Constance as she explains how her community is dealing with the impacts of climate change and what she is asking of the international community here.
Learn More
Our Work on Women's Leadership on Gender and Climate Change
Policy Brief – Women's Participation – An Enabler of Climate Justice
Policy Brief – The Full View – Advancing the goal of gender balance under the UNFCCC