The One Young World Summit is taking place in the Hague this week. Thousands of young leaders from global and national companies, NGOs, universities and other forward-thinking organisations are joined by world leaders to focus on creating positive change. Running since 2009, One Young World stages annual Summits in different World Cities and has to date engaged over 8,000 delegates.
Mary Robinson is a One Young World Counsellors and delivered a keynote speech titled "Climate Justice: Putting People First" where she challenged the delegates saying "Achieving climate justice is the space race for your generation – it is far bigger, more complex and more global than the challenge faced by NASA in the 1960s – but you have many more tools at your disposal. You must rise to the challenge of achieving climate justice. The IPCC report gives us a window of 12 years – we have no time to lose."
Mary Robinson also participated in the plenary panel How Can Our Planet Survive Plastic Pollution? with youth delegates on ending plastic pollution with OYW Councillors – Antoine de Saint-Affrique, Chief Executive Officer, Barry Callebaut AG and Tegla Loroupe, Oxfam GB, UNICEF, IAAF and UN Sports and Peace Ambassador.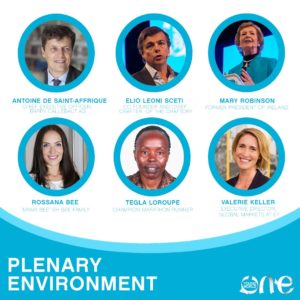 In the past decade the world produced more plastic than in the whole of the last century. We buy 1 million plastic bottles every minute and use 17 million barrels of oil each year just to produce those plastic bottles. Each year 13 million tonnes of plastic leak into the ocean. Some of these plastics can survive in the environment for 500 years. To turn this around 69% of One Young World Ambassadors have personally taken steps to be more responsible in the consumption and disposal of plastics in their country. Recycling offers hope. Every ton of recycled plastic saves up to 2,000 gallons of gasoline and the process uses 88 per cent less energy than making new plastic. Ambassador initiatives have also impacted 17,418 people in sustainable production and consumption, from making fair trade chocolate to recycling used sports equipment. 'Beat Plastic Pollution' was the theme of this year's World Environment Day.  Several delegates spoke to their lived experience of dealing with environmental pollution in their own communities demonstrating how people can take responsibility for our planet's health at an individual level.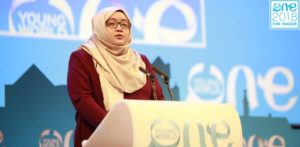 Khairunnisa Ashari, Brunei Darussalam who co-founded Green Brunei in 2012, a youth-led social enterprise that promotes environmental sustainability through education, conservation and advocacy but it bluntly when she said "we can't just talk trash, we have to do something about it."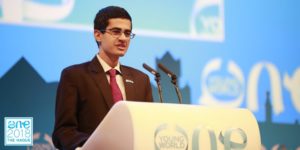 Madhav Datt, India  founded Green the Gene as a small environmental club in school when he was 8 years old. Since then, the organisations has  scaled to one of the world's largest completely youth-run environmental non-profits, with projects in 62 countries. He said "climate change is the greatest challenge of our generation and it is up to us, the young engineers, technologists and entrepreneurs to build solutions."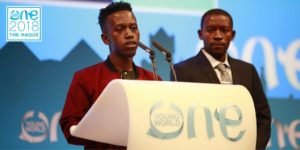 Johnmary Kavuma, Uganda  founded Upcycle Africa with an idea of providing affordable artistic and durable houses to law income earners while training marginalised youth the skills of constructing using bottles as a way of eliminating and reducing plastic waste accumulation in both rural and urban areas -and saying good bye to poverty amongst fellow youths in Uganda. Explaining the co-benefits of climate action and development he said "my mission is to build new homes out of plastic bottles. By using plastic bottles, we have made jobs for more than 100 women."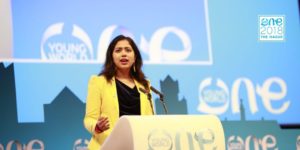 Kehkashan Basu, Canada established youth sustainability organisation, Green Hope Foundation in 2012 to engage, educate and empower young people to drive positive change and mitigate environmental impacts. They now have 1000+ youth members across Canada, the Middle East and the Indian sub-continent.  Speaking about the the impact of education and participation she said "Protecting out planet is instinctive to children. We should follow their lead."
Related Links