The Development and Climate Days (D&C Days) conference , held over the middle weekend of UN climate negotiations in Bonn 11-12  November, began with a brief story-telling session by four participants: Nontuthuko Xaba of South Africa's Adaptation Network, Filipe Nainoca, director general of the Fiji Red Cross, Mumina Bonaya of the Kenya Adaptation Consortium, and Edward Cameron of Business for Social Responsibility who set the scene for the tone of D&C Days – value and share your lived experience.
The four themes for the conference were outlined in background papers produced by the host partners and focused on;
Resilience through empowerment and access
Valuing lived experience, and local knowledge
Transparency and downward accountability
Shared resilience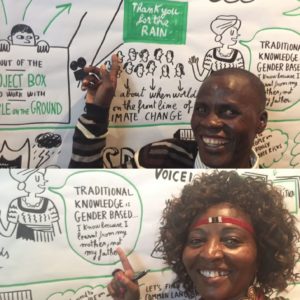 Caption Top image shows Kisilu Musya from Kenya who is the co-director of Thank you for the Rain. Kisilu attended COP with the support of the Mary Robinson Foundation – Climate Justice to share his experience of building resilient communities in Kenya. Bottom image shows Agnes Leina ED of llaramatak Community Concerns, Kenya who was also supported by the Foundation to attend COP and share her experience of enabling the participation of indigenous communities in climate policy.
As a host partner of D&C Days, the Foundation joined IDRC, GFDRR, WEDO and IFAD to lead a session How can gender responsive climate action lead to resilient communities?  under the theme Resilience though Empowerment and Access. Echoing the COP23 spirit of Talanoa, the workshop used learning circles to bring participants together at a round table where they could participate as equals in a safe space for constructive and open dialogue. Each learning circle was joined by grassroots men and women who spoke about overcoming the challenges of climate impacts in their own contexts. The session opened with a panel discussion which included a mix of grassroots community activists, COP negotiators, members of parliament and NGOs.
The discussion unpacked gender responsive climate action, which includes enabling the meaningful participation of women in policy making at the local and national levels and also what it means to be resilient which includes having access to appropriate resources.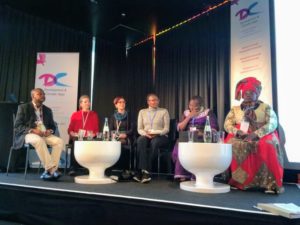 Caption Japhet Muli, Resilence Programme Officer, Trocáire Kenya, Eleanor Bloomstrom Co-Director of WEDO, Illaria Firmian, Environment and Climate Knowledge and Capacity Development Officer, IFAD, Winnie Lichuma, African Working Group on Gender and Climate Change, UNFCCC Jacquiline Amongin, MP, Uganda, Mailes Zulu Muke, CEO, SEPA Zamibia
The key messages that emerged from the learning circles included;
The urgent need to normalise the meaningful and equal participation in decision making processes of both men and women
appropriate training and capacity building of women at the local level should be prioritised in order to empower them participate in climate policy decision making
access to information including human rights, finance and markets is critical to enable citizen engagement in decision making.
In the afternoon, as partners hosted sessions on actions companies can take to reduce vulnerability and enhance resilience in the communities along their supply chains (WBCSD) * building resilience in fragile and conflict affected contexts, where many of the world's most vulnerable people live (NWO, IDRC) * How we can embed transparency and accountability in reporting and finance (RCRCCC, DIE), the Foundation joined DIE and IFAD to host Listening to local voices: How can local actors inform national and global decisions so that they prioritize the needs of the most vulnerable?. Under the theme of Valuing Lived Experience and Local Knowledge. Using the same Talanoa approach, participants joined learning circles to identify lessons learned and best practices in relation to listening to local voices. Participants heard from  Agnes Leina, Executive Director, Illaramatak Community Concerns, Kenya  and Chachu F. Ganya from North Horr Constituency Parliament of Kenya who debated their experience of the inclusion of local and indigenous knowledge in Kenyan climate policy.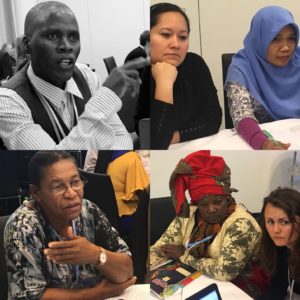 Caption Participants at the Talanoa inspired learning circles D&C Days 2017
Key messages that emerged from the learning circles included;
The need to recognise that a combination of traditional, indigenous and scientific knowledge is crucial to understand impacts and inform successful autonomous adaptation
Communities are not homogeneous – their diversity must be recognised in order to address issues of resilience and vulnerability
Social agency to participate meaningfully in decision making has to be resourced.
Closing Panel
The 15th D+C Days conference ended in Bonn with a call from the chair of the traditional high-level panel, Mary Robinson, the former president of Ireland, to all participants to "hold ourselves accountable" for progress on climate action. In their individual presentations and a Q&A session with the 250-strong audience, the panellists focused on ways of ensuring that "we deliver on the commitments set out by United Nations Framework Convention on Climate Change".
Michelle Winthrop of the Irish Department of Foreign Affairs, who called for a voluntary commitment from donors to be transparent about the amount of climate finance reaching local communities "at the front line of climate action". "That would be truly transformational," tweeted Clare Shakya, Climate Change Director at the International Institute for Environment and Development, joint organisers of D&C Days, which began on Saturday. "Listen up COP 23," she added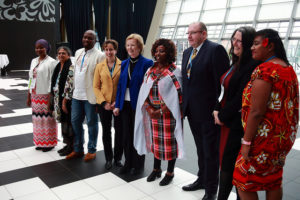 CAPTION Mumina Bonaya, Kenya Adaptation Forum,  Sheela Patel, Mumbai-based chair of Slum and Shack Dwellers International, Makgale Pokwane, a rural development specialist from South Africa, Diane Holdorf, the Kellogg company's sustainability chief, Mary Robinson,  Agnes Leina, Executive Director of Illaramatak Community Concerns, Hartwig Schafer, VP Global Themes, World Bank, Michelle Winthrop of Irish Aid and  Esther Nabuti, Red Cross volunteer, Kiribati.
ENDS
With thanks to IIED and RCRCCC for additional reporting and images.
Related Links
Development and Climate Days Key Messages