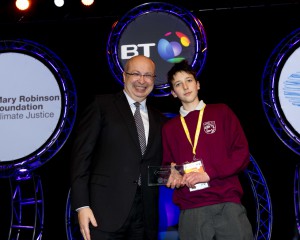 Noah McCarthy-Fisher of Schull Community College, Co. Cork became the first recipient of the Mary Robinson Foundation – Climate Justice award at this year's BT Young Scientist Exhibition in Dublin on Friday 8th January 2016 with his project 'What would it take: a study into renewable energy needs of an Irish village'.
The award recognised the best project related to climate action that is beneficial for the planet and for people. Noah decided to investigate this area when he learned that CO2 and other greenhouse gases are chief contributors to climate change and are produced in large amounts from fossil fuel generated electricity.
Noah explored what it would take for one village in south west Ireland to become entirely self-sufficient in electricity, using only renewable sources.  Noah researched how a combination of wind and solar power could provide an even spread of electricity all year round.  He examined how the introduction of the project would not only be good for the environment but would also be financially beneficial to the people of the area.
Noah impressed the judges with his unique and well researched project and for tackling the issue of climate change which is one of the greatest threats facing people and countries around the world. Noah also won first place in the Social and Behavioural Sciences Intermediate Individual category.
The BT Young Scientist and Technology Exhibition is an annual Irish school science competition open to all second level students, both in the north and south of Ireland. This year the exhibition celebrated its 52nd year, making it one of the longest standing exhibitions of its kind in the world. The winners go on to represent Ireland at the European Union Young Scientist competition. Many past participants and winners of the competition have gone on to become successful entrepreneurs, academics and professionals in the fields of STEM.
Congratulations on your awards Noah!
Links