Women in Development event at XIII Ministerial UNCTAD conference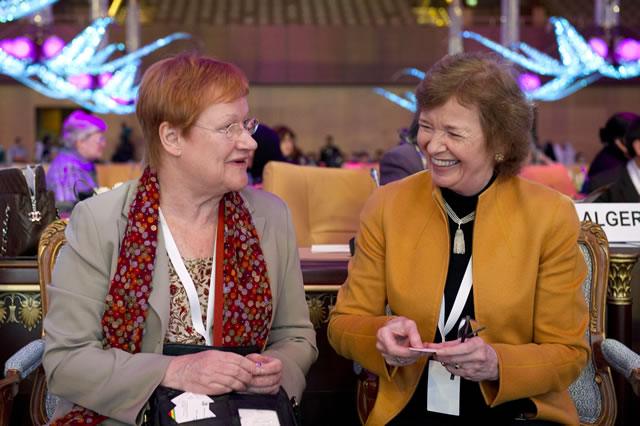 H.E. Ms. Tarja Kaarina Halonen, former President of the Republic of Finland and Co-Chair of the United Nations Secretary-General's High-level Panel on Global Sustainability and Mary Robinson, President of the Foundation.
Mary Robinson, President of the Foundation, attended Women in Development today 23 April as part of the XIII Ministerial UNCTAD conference in Doha, Qatar. The purpose of the Women in Development event is to raise awareness of the gender issue and to yield new insights into the relationship between macro-economic policies, development and gender.
The event was organised due to a growing recognition among policymakers in both developed and developing countries that high and persistent levels of gender inequality pose not only a moral challenge but also can be a source of economic instability and a drag on growth. Socio-economic development and women's empowerment are closely related. Development is in itself a driver of gender equality and a tool for women's empowerment. However, it is not a sufficient tool. Policy action is needed to achieve gender equality and empower women.
Mrs Robinson participated in the panel discussion Agriculture, Intellectual property, Food security and Gender highlighting the principles of climate justice which guide the work of the Foundation and are particularly relevant to these discussions: respect and protect human rights, support the right to development, share benefits and burdens equitably, highlight gender equality and equity.
The agriculture sector is crucially important to women and according to the Food and Agriculture Organization of the United Nations (FAO), women produce more than 50 per cent of the food grown worldwide. In developing countries, they comprise on average 43 per cent of the agricultural labour force.
In advocating for a climate justice approach to the discussions, Mrs Robinson said "climate change affects food and nutrition security and undermines efforts to reduce hunger and protect and promote nutrition. Furthermore, under-nutrition undermines the coping mechanisms of vulnerable populations and reduces their capacity to resist and adapt to the consequences of climate change. Integrating the gender dimension into nutrition and agriculture policies is a critical step to ensuring improved food and nutrition security.
"It is also important to remember other inter-related issues such as water, energy, land use, biodiversity, health and education. Poor and vulnerable women smallholder farmers don't think in silos. They struggle to achieve their basic human rights and we should bear this in mind when discussing these issues".
Related:
FAO The State of Food and Agriculture 2010-2011
Latest News