The Climate Justice Dialogue: Implementing equity in the new international climate agreement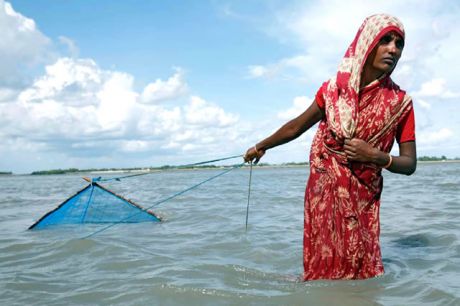 A woman catching shrimp fry in the Gabura district of Bangladesh. Photo: Flickr/Oxfam
Mary Robinson told participants at a meeting hosted by WRI that the 'the time had come for a climate justice narrative – a narrative that places people at its centre, that is informed by human rights, that strives for equity and protects the most vulnerab
Mary Robinson told participants at a meeting hosted by World Resources Institute (WRI) that the 'the time had come for a climate justice narrative – a narrative that places people at its centre, that is informed by human rights, that strives for equity and protects the most vulnerable'.
WRI and the Foundation have embarked on a Climate Justice Dialogue with partners from around the world that will listen, seek to understand and ultimately reshape and inform discussions on equity under the UNFCCC. Introducing the rationale for the dialogue Mary Robinson highlighted the need for 'a new set of arguments and moral and ethical imperatives to motivate people and decision makers to act – and to bring the urgency and ambition we need to agree a new climate agreement that will avoid dangerous climate change'.
Mary Robinson outlined the Principles of Climate Justice explaining how they inform a human centred approach to climate change, responding to science and grounded in human rights.
The PCJ include respecting and protecting human rights, supporting the right to development, sharing the benefits and burdens of climate change equitably and making sure that decisions on climate change participatory, fair and transparent. These are the very issues that are at the core of the difficult discussions on how to solve the climate crisis.
Reflecting on the statements from members of the Caravan of Hope and Climate Wise Women who have attended climate change negotiations to bear witness to the impact of climate change on their lives, Mary Robinson said "Until there is greater demand from people in all walks of life for meaningful action on climate change, political leaders will continue to be able to return home from unsuccessful climate conferences with little fear of retribution. A climate justice narrative, informed by the voices of the most vulnerable, can create strong constituencies of demand and the political will needed to solve the climate crisis."
The meeting, hosted by the WRI was attended by over 50 invited guests working in the areas of ethics, REDD+, climate science, development and faith based organisations. During the meeting questions were posed around the role of human rights in informing the climate negotiations, the role of faith based organisations in the Climate Justice Dialogue, lessons learned from equity in the context of REDD and the role of social media in including the general people in the dialogue.
On a question related to how the Climate Justice Dialogue would work in practice, Manish Bapna Interim President of WRI stressed the value of the project in talking, listening and understanding different viewpoints, "inclusive and participative dialogue is the basis of the methodology, drawing on WRI's experience in producing the most recent World Resources Report on adaptation".
In his talk Mr Bapna spoke about the "opportunity to operationalise 'equity' and 'Common but Differentiated Responsibilities' in ways that ensure environmental integrity and serve the needs of the most vulnerable".
Related:
World Resources Institute (WRI)
Climate Justice: Creating Urgency and Safeguarding Rights - The Huffington Post, 31 May, 2012
Latest News
http://www.mrfcj.org/inner.php/ajax