Equity Workshop, Brussels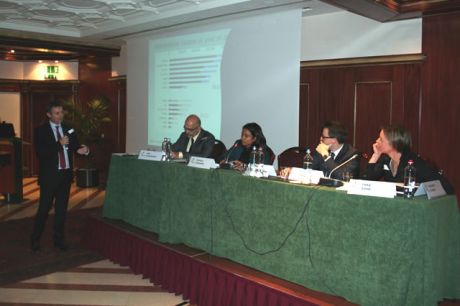 Johan Kuylenstierna (moderator) and panelists Tom Athanasiou, Achala Chandani Abeysinghe, Edward Cameron and Tara Shine
The Foundation's Head of Research and Development, Dr Tara Shine, participated in an Equity Workshop, organised by Belgium and Sweden and held in Brussels on the 6-7 November 2012. The purpose of the workshop was to explore 'equity' in the context of the
The Foundation's Head of Research and Development, Dr Tara Shine, participated in an Equity Workshop, organised by Belgium and Sweden and held in Brussels on the 6-7 November 2012.
The purpose of the workshop was to explore 'equity' in the context of the UN climate change negotiations. The workshop organisers' objective was to explore how equity can generate increased ambition through a virtuous circle of willingness to act.
Participants, including UNFCCC negotiators, were invited to share their views and exchange ideas in order to enhance understanding and find common ground with a view to informing the 2015 climate agreement.
Dr Shine presented alongside Edward Cameron, Director, International Climate Initiative at the World Resources Institute (WRI) on 'Equity in Principles and Practice'.
Dr Shine and Mr Cameron also discussed the Foundation's and WRI's Climate Justice Dialogue at the workshop; an innovative project that will mobilise political will and creative thinking to shape an equitable and ambitious international climate agreement in 2015.
Related Links:
View all presentations from the workshop
World Resources Institute (WRI)
Our Work: Equity and Climate Justice
Latest News
http://www.mrfcj.org/inner.php/ajax